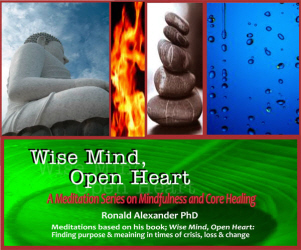 Wise Mind, Open Heart
A Meditation Series on Mindfulness and Core Healing
Wise Mind, Open Heart is a series of mindfulness meditations from pioneering psychotherapist, Ronald Alexander, PhD to help listeners make a dramatic difference in their ability to remain calm, focused, and nonreactive when dealing with stress, anxiety and changes in their lives. Produced as a companion to Ronald Alexander's widely acclaimed book Wise Mind, Open Mind together they provide practical and innovative tools to help one through today's stressful times.
Through his unique teaching technique of combining the ancient wisdom of mindfulness with creative psychology and creative thinking Alexander has helped hundreds of his clients let go of their false beliefs about who they are, and instead see their lives as a canvas that reflects their personal passions and values. Now you too can learn to open your mind and heart to develop greater awareness and transform any challenge into a life changing opportunity.
Meditations:
Four Points of Mindful Attention
Concentration Meditation
Mindful Witnessing and Mudra Meditation
Comfort Meditation
Discarding Unwholesome Beliefs
Recovering From A Broken Heart
Recapture Wholesome Emotions
Sweeping Body Meditation
Lone Explorer Meditation
Open Mind Meditation
The Ideal House of Self Meditation
Wise Mind, Open Heart CD Available at Amazon
Click Here to Purchase Audio Program on Amazon
Click Here to Read Article on How to Mindfully Meditate.
Click Here to Listen to the Sample Meditation "Four Points of Mindful Attention."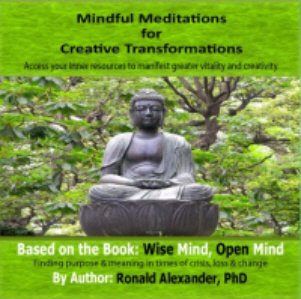 Mindful Meditations for Creative Transformation
Access your inner resources to manifest greater vitality & creativity
Mindful Meditations for Creative Transformation helps listeners to access their core creativity, empowering them to pursue their passions even when faced with challenges and letting go of any resistance that they might have to making a change. Based on Dr. Ronald Alexander's widely acclaimed book Wise Mind, Open Mind these meditations help you to listen and pay attention to what you might otherwise overlook—whether it's a fresh idea or a new way of perceiving a situation. Learning to tap into your core creativity helps you remain enthusiastic and resilient regardless of circumstances, because you've learned that you can always rely on this powerful force to lead you out of the woods of the unknown and into the clearing.
Through Dr. Alexander's unique teaching techniques he can help you navigate through a sea of self-limiting thoughts and transform unwholesome beliefs. The Buddha said that to find satisfaction, creativity, and vitality you must direct your attention to achieve a deeper and more meaning life, one dedicated to an extraordinary cause or endeavor and a life simply lived with a deep sense of Zen awareness and openness to both the known and the unknown.
Meditations:
Positive Antidote Remedies for Overcoming Negative Self Judgments
Hopefulness Meditation
Imperfection Meditation
Accessing the Resources of Creative Unconscious
Fertile Ground Meditation
Big Sky Mind Meditation
Satisfaction Meditation
River Of Time Meditation
Wise Mentor Meditation
Transition To The Other Side Meditation
Vitality Meditation
Mindful Meditations for Creative Transformation CD Available at Amazon
Click Here to Purchase Audio Program on Amazon
Click Here to Read Article on How to Create a Mindfulness Journal.
Click Here to Listen to the Sample Meditation "Positive Antidote Remedies for Overcoming Negative Self Judgments."